Image
Get Long Lasting Mosquito Protection
100% Satisfaction Guarantee
Locally Owned and Operated
Mosquito Control Services in Nebraska & Iowa
While DIY methods may offer temporary relief from mosquitoes, these methods are simply not sustainable or effective long-term. At Midwest Pest Control, we are proud to provide mosquito control that's both quick-acting and long-lasting. Unlike other companies that rely on a one-time treatment option, we offer a recurring fogging service during the 6 months mosquitoes are most active to ensure that treatments are consistent and highly effective. 
When you partner with us for mosquito control in the greater Omaha or Des Moines area, you can expect:
A professional, state-certified mosquito exterminator to inspect and service your home.
A full mosquito inspection of your property to check for breeding areas and assess the land.
Family-friendly products to guarantee minimally invasive service.
A monthly mosquito fogging service to control and eliminate the mosquito population.
Protection from mosquitoes during the 6 months when they're most active.
Recurring Treatments To Protect You and Your Loved Ones
For half of the year, mosquitoes infest the Midwest, causing itchy bites and spreading harmful illnesses. Fortunately, Midwest Pest Control offers recurring mosquito control for relief that lasts. We are dedicated to protecting you and your family all year long!
Long-Term Relief with Recurring Treatments
Mosquito control has been growing in popularity as people have begun to realize the many benefits that accompany mosquito treatments, including being able to enjoy more time outdoors and protecting your family and pets from potential mosquito-borne illnesses. Different breeds of mosquitoes carry different diseases.
The following are just two of the mosquitoes that can be found in Nebraska and the viruses they can carry:
Culex mosquitoes: West Nile Virus
Aedes Aegypti mosquitoes: Zika virus, chikungunya, dengue, and yellow fever
Mosquito Control with a Satisfaction Guaranteed
When our pest control experts visit your property, they make it their priority to provide you with the best mosquito services possible. Your satisfaction is our top priority. That's why we work hard to satisfy all of your mosquito control needs. If you are ever unhappy with our service, an exterminator will return to your home and provide you with a complimentary re-treatment. We believe that pest control should be affordable, which is why we also offer $50 off your initial treatment when you sign up for our Home Defense pest control package.
Image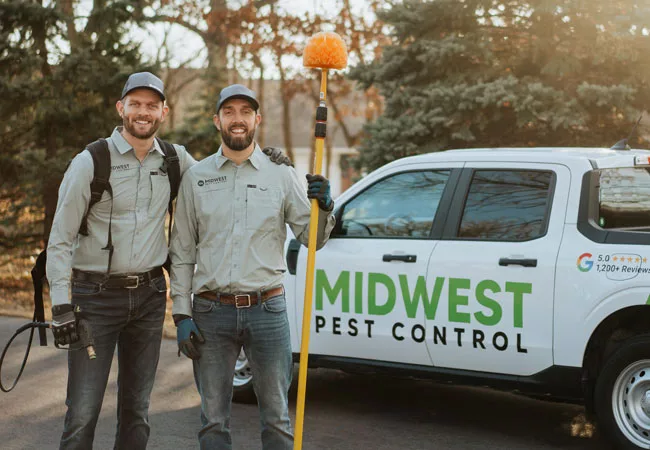 LEARN MORE ABOUT US
The Premier Pest Company In Omaha & Surrounding Areas
Midwest is proud to provide the greater Omaha areas with professional treatment that's safe for all families and homes. We service the following places:
Image