Image
Save $50 on Pest Control in Ames
What kind of problem are you having? Select all that apply.
Pest Control in Ames
Are pests taking over your home or business in Ames, IA? Look no further than our local pest control services. Our team of experienced exterminators is here to tackle all of your pest problems, no matter the service you need.
Residential Pest Services: Say goodbye to unwanted guests in your home with our effective and family-friendly treatments.
Commercial Pest Services: Protect your business from pests that can damage your property and reputation.
Rodent Control: Keep rodents out of your space with our expert techniques and prevention strategies.
Termite Solutions: Don't let termites destroy your investment - we offer comprehensive termite control services.
Experienced, Local Experts
With our 3 years of experience, you can trust us to deliver high-quality results. We are committed to customer satisfaction and stand behind our work with a 100% satisfaction guarantee.
Ames, Iowa's climate creates the perfect breeding ground for bugs, but we have the knowledge and tools to eliminate them. Don't let pests take control - contact us today for effective and reliable pest control services.
Image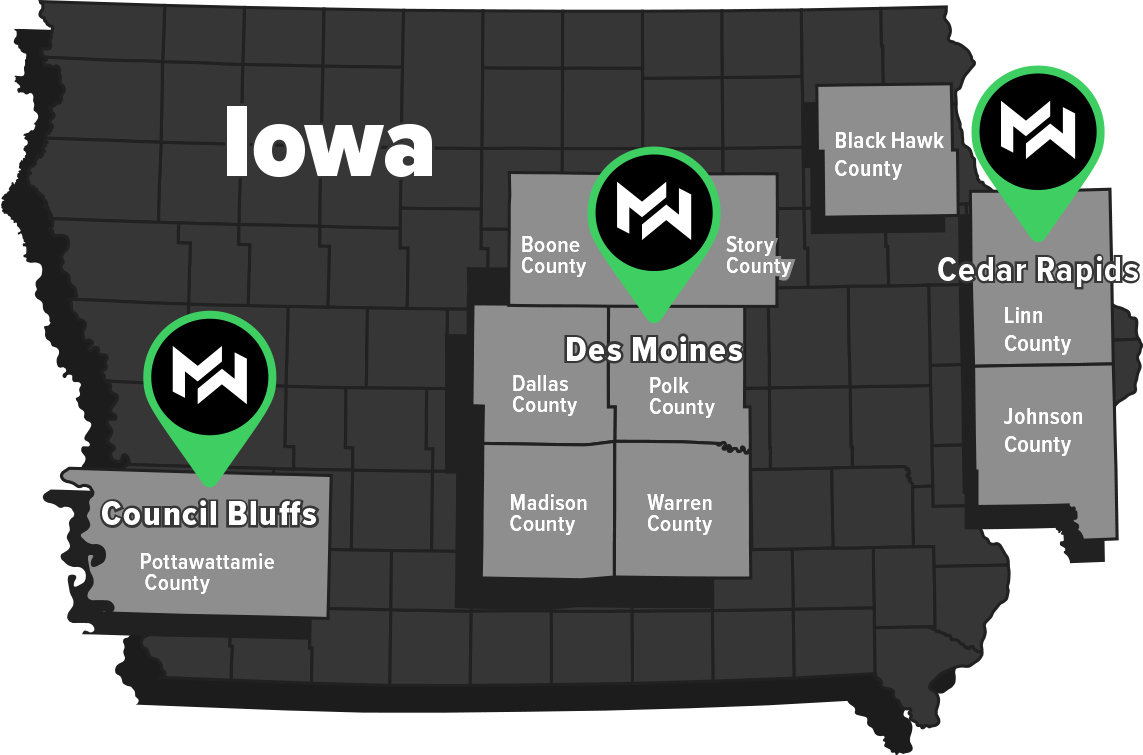 Mosquito Control in Ames
At Midwest Pest Control, we understand the unique needs of Ames, IA, when it comes to mosquito and tick control. Our comprehensive services are designed specifically to target and eliminate these pests, ensuring a safer and more enjoyable outdoor experience for you and your family. Here's what you can expect when you choose our mosquito control in Ames:
Free Inspection: Our professional technicians will conduct a thorough assessment of your property, identifying potential breeding areas and hotspots for mosquitoes and ticks.
Larvicides in Targeted Areas: We utilize targeted larvicide treatments to eradicate mosquito larvae, preventing them from developing into adult mosquitoes and reducing their population.
Mosquito Traps: Our strategically placed mosquito traps effectively lure and capture these pests, significantly reducing their numbers and providing long-lasting protection.
Rodent Exterminators in Ames
Our rodent control service in Ames is designed to keep your home protected year-round. We understand the costly damage that rodents can cause, chewing through walls, insulation, and electrical wires. That's why we offer a comprehensive solution to get rid of these pests and prevent them from entering your home again.
With our rodent control service in Ames, you can expect:
Free rodent inspection: Our expert rodent exterminators in Ames will conduct a thorough inspection of your home to identify areas of infestation and entry points.
Exterior rodent baiting: We strategically place bait stations around the exterior of your home to target rodents and prevent them from entering.
Interior trapping: If rodents have already made their way inside, our team will set up traps to safely and effectively remove them from your home.
Rodent exclusion: We go beyond just removing rodents. Our service includes sealing off entry points to prevent future infestations and keep your home rodent-free.
Recurring or one-time service: Whether you prefer ongoing protection or a one-time treatment, we offer flexible options to meet your specific needs.
Family-Friendly Rodent Control
At Midwest Pest Control, we prioritize the safety of you and your family. That's why we use risk-reduced products and ensure that our rodent bait is safely locked in bait stations during interior treatments. Our state-certified rodent exterminators in Ames are highly trained and committed to providing quality service.
Don't let rodents threaten the integrity of your home or put your loved ones at risk of diseases. Choose our rodent control service in Ames to get rid of rats and mice for good. Contact us today for a free rodent inspection and take the first step towards a rodent-free home.